AARKAY ASSOCIATE is incorporated in year 1985 with the vision to create ripples in Lighting Arena with the man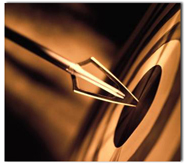 ufacturing of Capping Cement. In year 1989 Lead In wire unit was set up initially as Ancillary unit for M/s Hind Lamps Ltd. (Then wholly Joint Venture of Royal Philips Netherlands & Bajaj India).
Aarkay is one of the most trusted suppliers of both products between Lamp Manufacturer because of sheer commitment to deliver quality products consistently & on reasonable prices & having the same sense of belief. Today Aarkay is sole supplier of Capping Cement to Philips India & India's only Capping Cement unit having ISO Certification.
Aarkay is looking vigorously toward international market & being successful to felt his presence in various countries overseas. And we are proud to announce that we are being very shortly enlisted with two Major Lamp Manufacturers of the world. Till we announce our association with them please keep guessing. We are commencing with our new Production facility for Export of Lead In wire in Agra City of Taj, in Export Promotional Industrial Park.