Lead In Wire
AARKAY is in the manufacturing of LIW since year 1989; we are consistently performing on customer expectations. We are manufacturing almost all type of Lead in wire mainly two part & three parts.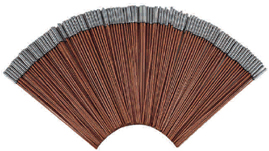 In the time when cost & quality is name of the game, we consistently innovating to improve upon our system & Machine performance so that they will ensure the right quality of material on minimum wastage. Aarkay is having to produce the Capacity of 40 Lac Wires Per Day.
We have made some arrangements in our machine to ensure the delivery of the Best Quality Material to our customers.
Our Process parameters are designed in a manner so that they always care for following parameters of LIW quality.
8 Joint Strength
8 Burr Free Joints
8 Burr Free Wire Ends
8 Wire Straightness
8 Right Wire Dia & Wire Length
Procurement of Raw Material:
Right quality Lead In Wire is incomplete if you are not using quality raw material, we never compromise in quality of Raw Material. Dumet which is heart of Lead In Wire & equally important in Life of Lamp is regularly procured from Sumipac Corp Japan.
Input & Output Testing of Material: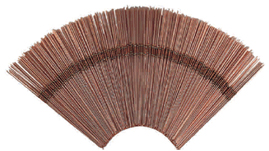 We undertake all the necessary input testing of Raw Material prior to issuing it to manufacturing. All the manufactured goods is always inspected prior to dispatch & records are maintained.
Lead Time
Delivery Commitment is our main Strength. We always try to complete the order in a month time upon the receipt of firm P.O & payment instrument but it can be tailored upon requirement of customer that can be adjusted.
Pricing
Pricing Pattern is very transparent & depend with customers negotiation.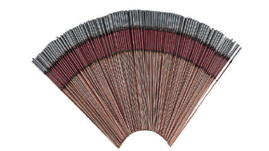 Packing:
Tube Packing & Flat Packing.
Identification & Traceability
All the Packets of LIW bear full specs of Customer along with necessary manufacturing Information to get it trace whenever it require.